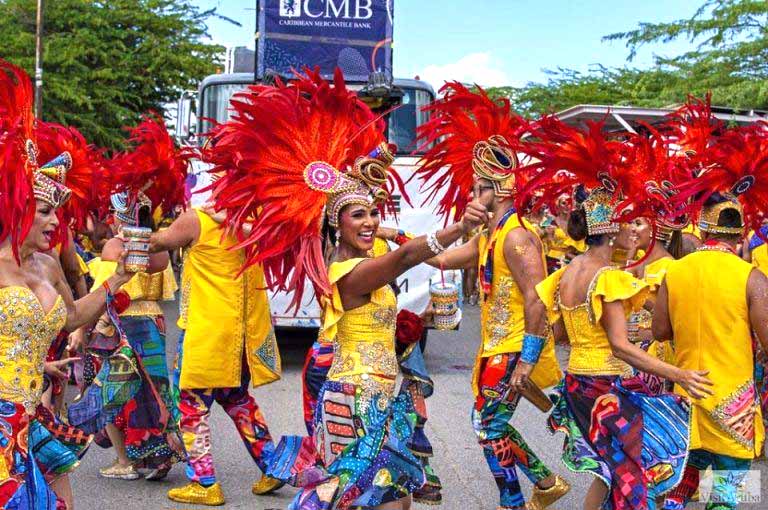 ARUBA ADVENTURE
CARNAVAL 2022
– 6 Days of a Tropical Escapade
5Nights of an Explosive Festival
On the "One Happy Island".

February 24 to March 1, 2022
Participation is unrestrictive; space is limited.
.
$3120
(EARLY BIRD)
per person in double occupancy,

This Early Bird Fare is available until September 7.
Much higher fares may apply as of September 1..
Deposit: $1120

This $1120-deposit holds your package, at the current fare, until December 2.
This deposit is nonrefundable
Registration and Payments:

Registration is not valid, unless a full deposit ($1120) is paid.
All card payments are subject to a 3% processing fee.
All registrations and payments close on December 2.

Inclusive:
Air fare
Luxury accommodation
First-class land transportation
Excursions
Daily cultural, and shopping tours
All meals, except dinner
Welcome Reception
Farewell Gala
Optional:
Single room occupancy: $1330
Parades, shows, theater, etc., as per your choice.
Final itinerary will be made available 14 days before the trip.
Registration: exclusively online
at TraveloGanza.com
Contact:
TraveloGanza.com;
info@TraveloGanza.com;
973 666 0930
ALL REGISTRATIONS AND PAYMENTS END
ON DECEMBER 2, 2022

Due to the discounted nature of this trip:
All balances must be paid before December 2,
12 weeks before departure.
The $1100-deposit is nonrefundable.
Beyond the deposit, 80% of the balance is refundable before December 2.
No payment is refundable after December 2.
REQUESTED DOCUMENTS
Requested documents, such as passport (copy of photo page), visa applications, etc.
must reach Travel-O-Ganza before the final deadline.
Before the deadline for all payments (December 2) processing is free.
A $25 processing fee, for each document
will be assessed after the final deadline (as of December 2).

Insurance:
Acquisition of travel insurance is a requisite.
Insurance can be purchased from any source.

Travel O Ganza's responsibilities are limited to provision
of transportation, accommodation, meals and entertainment within the time frame
and the geographical limits imparted to the trip.
Travel-O-Ganza endorses NO responsibility
in accidents, illnesses, loss of luggage, acts of nature, acts of terror, governmental ordinances…
and in any traveler's conflict with any independent provider, person, or entity.
Travel O Ganza demands all travelers to acquire
comprehensive insurance against such incidents.
You may click here to purchase your
TRIP CANCELLATION INSURANCE
from AIG.
(No relationship with Travel-O-Ganza)
Traveler's responsibilities:
The traveler is required to meet all deadlines.
All travelers are responsible to read this contract
and all related mailed or emailed correspondence.
Collected personal information will be kept strictly confidential
and used solely for the purpose of the Travel Club.
It is incumbent to the travelers to print this contractual agreement for future reference.
Travel-O-Ganza is entitled to refuse services to any disruptive or uncooperative traveler.
Production: Travel-O-Ganza, Inc
The Melting Pot for Cultures and Education
Proceed with registration and payment
ONLY if you agree to the above terms.